Are you looking for an affordable way to refresh your home's flooring? Ultrafloors' floor sanding and polishing services could be just what you need! Our skilled professionals use advanced techniques and specialized equipment that can eliminate scratches, stains, dirt, and other imperfections from even newer surfaces.
We kick off our process by conducting thorough cleaning before getting down to floor sanding and polishing. We then employ floor sanders to transform tired-looking timber floor surfaces into gleaming masterpieces! Lastly, we use sealants that will keep newly polished surfaces safe from damage in the foreseeable future.

Say goodbye to shabby-looking floors and hello to renewed ones with our expert floor sanding & polishing services. Not only do they revive the original beauty of your floorings but also provide long-lasting protection against wear and tear down the road. Are you tired of staring at lifeless scratched-up flooring? Look no further than Ultrafloors for professional floor sanding & polishing services that will breathe new life into any room. With our team of experienced technicians utilizing advanced equipment and premium products, we guarantee a stunning finish that will enhance the overall aesthetic of your home or business.

Keep your investment protected with regular maintenance from Ultrafloors - floor sanding Canberra ensuring lasting beauty year after year.
Benefits of floor sanding & polishing
Bring back your wood floors' natural beauty through wooden floor sanding & polishing! This process eliminates minor scratches that have accumulated over time while making wooden floors look brand new again. Floor polishing adds another layer of shine that hides small marks caused by everyday wear and tear beautifully. By removing any pre-existing damage with sanding you're not only refreshing existing timber floor surfaces but also preventing potential issues from surfacing down the line—the perfect preventive solution! Once stripped away expertly you'll reveal a pristine surface that can be stained or finished according to personal taste preferences—truly customizable options galore! Polished floors are ideal for allergy sufferers as they remove every dust particle found in your home during the process—great news all around! Keep in mind: regular cleaning will help ensure lasting optimal results after floor sanding and polishing by preventing dirt buildup over time.

Investing in professional services is wise as they not only improve aesthetics but also increase home value over the long haul—a sound investment overall. Ultimately floor sanding & polishing effectively revive wooden floors' original beauty while guarding against future damage—what more could you ask for? By adding to the visual allure of your home you're also able to purify the air within by eliminating any pesky dust particles that may be swirling around - a definite win-win.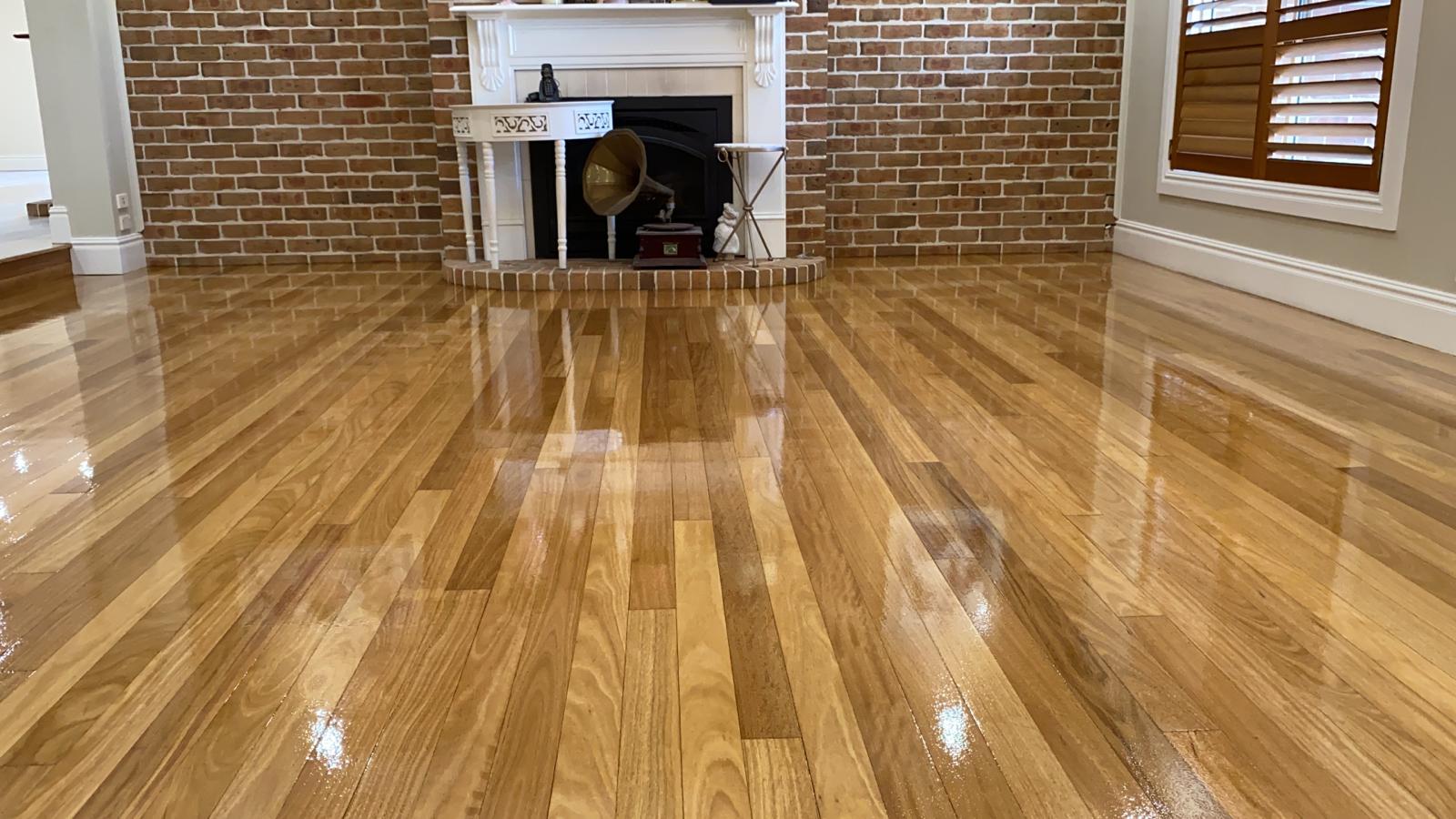 Comprehensive Timber Floor Sanding and Polishing Process
Seeking professional timber floor sanding & polishing services? Look no further than Ultrafloors as a service provider! They cater to both residential and commercial properties through their comprehensive process including dustless sanding, debris removal, gap filling, scratch filling finishing with buffing to give you those perfect floors you've always wanted.

The first stage of their process is crucial - utilizing cutting-edge equipment for dustless sanding which captures all generated dust leaving the environment clean throughout its completion. Once done any remaining debris is swiftly removed ensuring an even surface before moving on to floor polishing.

Some damages may occur but do not worry as Ultrafloor's specialized filler material can easily fix gaps or scratches creating an even-level surface. Next, they buff your newly refined floor with an orbital sander leaving a shiny and smooth finish.

Last but not least a protective floor coating is added to seal in that shine while protecting your timber flooring from future damage. Want quality services? Look no further than Ultrafloors who use only the most advanced equipment and techniques ensuring efficient high-quality results every time! At Ultrafloors, we pride ourselves on providing excellent workmanship alongside impeccable customer service.

Our floor sanding experts strive to exceed your expectations with every project they tackle. For complete floor sanding and polishing services that you can trust look no further than Ultrafloors – we're here to bring your floors back to their former glory!
Ultrafloors is dedicated to providing our customers with unparalleled quality when it comes to their flooring needs. Our team of experts specializes in floor sanding and polishing services for ultimate shine and cleanliness.

The floor installation requires both time and money – which is why we offer guarantees on all our products. You'll love our industry-leading hardwoods, vinyl or laminates - with the added benefit of extra protection!

Our skilled professionals are committed to exceeding customer satisfaction with top-notch service & results! We take great pride in offering an extensive array of high-quality flooring options at competitive prices.

At Ultrafoors we don't stop until perfection has been achieved – even after installation! We're dedicated to leaving your space cleaner than before. Count on us for the highest quality floor services around - you won't be disappointed!
Post from floor sanding and polishing